Arrow Ledge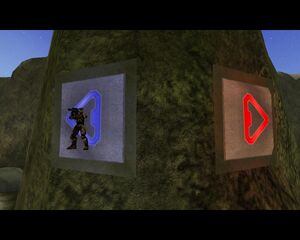 Classification
Game:

Halo (PC)




Mode:

Multiplayer




Map:

Infinity




Type:

Ledge




Subtype:

Wall Ledge




Stunt:

Arrow Ledge



Informal Data
The Arrow Ledge stunt is a ledge that involves shee lifting inside of one of the colored arrows at the center of Infinity.
Tutorial
Edit
This method requires the cooperation of two players, who shall be referred to as Player 1 and Player 2.
To begin, have Player 1 enter a Banshee and position it by driving into the wall directly underneath the arrow you want to lift into.
Then, have Player 2 jump on top of Banshee.
Have Player 1 slowly aim upwards, so that they begin to lift the player up to the arrow.
When the Banshee is directly below the arrow, have Player 2 move to the front of the Banshee so they will be directly below it.
Then, have Player 1 continue lifting.

If Player 2 pops out of the arrow, have Player 1 lower their Banshee so that Player 2 may reposition themselves.

Finally, when Player 2 is fully inside of the arrow, have them move out a bit so that they are on the ledge inside of the arrow.
Other Information
Edit
Some of the arrows are harder to lift into than others.