Banshee in Bridge (Wing Tip Below)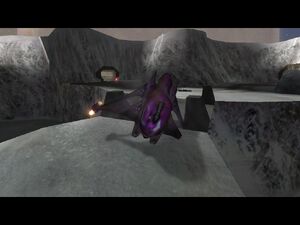 Classification
Game:

Halo (PC)




Mode:

Multiplayer




Map:

Sidewinder




Type:

Inside




Subtype:

Vehicle Insides




Stunt:

Banshee in Bridge (Wing Tip Below)



Informal Data
The Banshee in Bridge (Wing Tip Below) stunt is a vehicle inside that involves forcing a Banshee into the small bridge on Sidewinder by the wing tip break point so its wing tip is below the bridge. Its mobility is limited because the bridge is very small and because there is a bar under the bridge that limits vehicles inside of the bridge to one side of it.
Tutorial
Edit
Method 1
Edit
Position the Banshee in the air adjacent to the bridge about two tank lengths away from it.
Drive in a circle so the bottom wing of the Banshee comes in contact with the bridge at the wing tip break point.

When you exit the Banshee it will most likely slip back out of the bridge.
Other information
Edit
Related pages
Edit