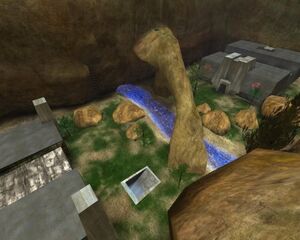 Battle Creek
is a multiplayer map in
Halo: Combat Evolved
. It is an outdoor map set in a tiny canyon featuring two bases that are separated by a small creek. Being one of the smallest multiplayer maps in the game, Battle Creek is well suited for small, usually team-based, games between two to eight players.
Battle Creek's layout is very simple; it consists of two identical bases separated by a small creek. Outside, there are plenty of rock formations, an arch spanning the river, and two raised outcroppings on the canyon walls. In addition, there are two-way teleporters located behind each base.
The interior of the bases consists of a main room, a pair of hallways, and a series of tunnels. The entryways consist of the main door, a side door, stairs, and a hole in the roof above the main room.
Ad blocker interference detected!
Wikia is a free-to-use site that makes money from advertising. We have a modified experience for viewers using ad blockers

Wikia is not accessible if you've made further modifications. Remove the custom ad blocker rule(s) and the page will load as expected.