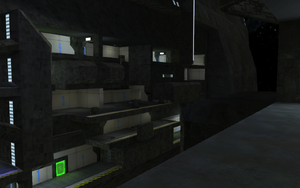 Boarding Action
is a multiplayer map in
Halo: Combat Evolved
. It is a large map that supports 4-16 players and does not support vehicles. It is made up of 2 spacecraft that are right next to each other.
There are two parallel human battleships, which have a good portion of the interior exposed to space. There are four teleporters on both ships which are the only natural means of transportation between the two ships. There are five symmetrical floors on each side. Teleporters are found on the 1st and 5th floor, each leading into the exact same place on the other side.
Ad blocker interference detected!
Wikia is a free-to-use site that makes money from advertising. We have a modified experience for viewers using ad blockers

Wikia is not accessible if you've made further modifications. Remove the custom ad blocker rule(s) and the page will load as expected.