Bottom of Pit (The Library)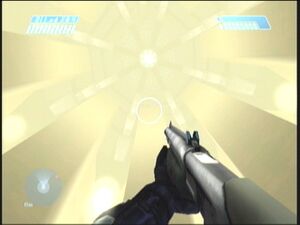 A view from the bottom of the Pit
Classification
Game:

Halo: Combat Evolved




Mode:

Campaign




Map:

The Library




Type:

Location




Subtype:

Master Chief location




Stunt:

Bottom of Pit



Informal Data
The Bottom of Pit stunt is a location that involves getting to the bottom of the pit on The Library. It is a very easy stunt that can be done by even the most novice players, and was probably found soon after the game was released.
Play through the level until you get to the first Overshield.
Go back to the Pit in the beginning of the level while keeping as much of your Overshield as possible.
Walk down to the lowest part that you can get to, and then walk off.
Video Tutorials
Edit
Walk-off Method
Ad blocker interference detected!
Wikia is a free-to-use site that makes money from advertising. We have a modified experience for viewers using ad blockers

Wikia is not accessible if you've made further modifications. Remove the custom ad blocker rule(s) and the page will load as expected.