Floating Ghost (Tail Balance R)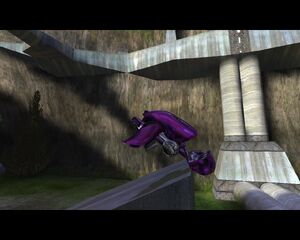 Classification
Game:

Halo (PC)




Mode:

Multiplayer




Map:

Danger Canyon




Type:

Miscellaneous




Stunt:

Floating Ghost (Tail Balance R)



Informal Data

The Floating Ghost (Tail Balance R) stunt is a Miscellaneous stunt that involves floating a ghost on the invisible barrier between the ramps on Danger Canyon so it balances on it's tail facing the Invisible Barrier Ramp.
Tutorial
Edit
Grab a Fuel Rod Gun and a Ghost.
Reverse a Ghost halfway onto the Invisible Barrier.
Exit the Ghost.
Fuel Rod deep under the front of the Ghost.
Fuel Rod close to the Base of the Ghost to attempt to make the Tail Balance more vertical.
Other information
Edit
Related pages
Edit
Ad blocker interference detected!
Wikia is a free-to-use site that makes money from advertising. We have a modified experience for viewers using ad blockers

Wikia is not accessible if you've made further modifications. Remove the custom ad blocker rule(s) and the page will load as expected.