Floating Ghost Platform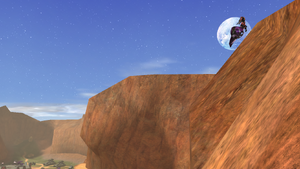 Classification
Game:

Halo: Combat Evolved




Mode:

Multiplayer




Map:

Blood Gulch




Type:

Location




Subtype:

Vehicle Location




Stunt:

Ghost Platform (Invisible Barrier)



Informal Data
Nicknames:
Floating Ghost Platform
The Floating Ghost Platform stunt is a Vehicle Location that involves making a Ghost Platform by driving up the gradual cliff beside the Blue Portal exit node. It is unique in that it is one of a handful of stunts that makes use of invisible walls/barriers in Halo.
Tutorial
Edit
Other information
Edit
Related pages
Edit
Ad blocker interference detected!
Wikia is a free-to-use site that makes money from advertising. We have a modified experience for viewers using ad blockers

Wikia is not accessible if you've made further modifications. Remove the custom ad blocker rule(s) and the page will load as expected.