Ghost Seat Half-Shark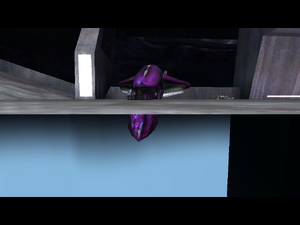 Swimming in an ocean of grey
Classification
Game:

Halo: Combat Evolved




Type:

Inside




Subtype:

Vehicle Inside




Stunt:

Ghost Half-Shark (Seat)



Informal Data
Nicknames:
Ghost Seat Half-Shark
The Ghost Seat Half-Shark is an inside that exploits the seat break point on the Ghost with the ground. It differs from a Ghost Seat Shark in that the seat of the Ghost is not outside of the map's geometry, it is underneath whatever the Ghost is inside of. This makes it so the shark cannot come out of the ground.
The first Ghost Seat Half-Shark was likely created on Sidewinder in the bridge during the early days of Halo: Combat Evolved for Xbox. As there were no Banshees on Blood Gulch making it in the ceiling of the base is something that likely didn't happen until Halo (PC) was released. And since Blood Gulch and Sidewinder were the only multiplayer maps with vehicles on Halo: Combat Evolved for Xbox this seems likely. The only other possible first instance of a Ghost Seat Shark could be on Assault on the Control Room. There is a video from 2003 which demonstrates making a Ghost Seat Half-Shark in the bridge on Sidewinder.[citation needed]
Other information
Edit
Relevant facts
Edit
The Ghost Seat Half-Shark is often used to make Ghost Shrooms.
The Ghost Seat Half-Shark is possible on less maps than full Ghost Seat Sharks.
Related pages
Edit
Ad blocker interference detected!
Wikia is a free-to-use site that makes money from advertising. We have a modified experience for viewers using ad blockers

Wikia is not accessible if you've made further modifications. Remove the custom ad blocker rule(s) and the page will load as expected.