Ghost Seat Shark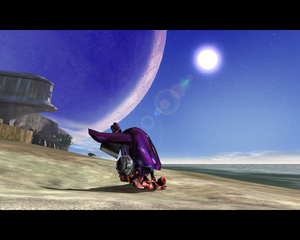 Prancing in Purple
Classification
Game:

Halo: Combat Evolved




Type:

Inside




Subtype:

Vehicle Inside




Stunt:

Ghost Shark (Seat)



Informal Data
Nicknames:
Ghost Seat Shark
The Ghost Seat Shark is an inside that exploits the seat break point of the Ghost. The Ghost Seat Shark doesn't directly resemble a shark in any way, but since it is a drivable and mobile vehicle inside it falls under the Shark category. Thus one can describe it as a Ghost Seat Shark.
The first full Ghost Seat Shark on record was shown on Blood Gulch in Ms. Man's video Strange Things back in 2004.[citation needed]
Other information
Edit
Ghost Seat Half-Shark
Edit
When a ghost is inside of the ground by its seat break point, but the seat is not outside of the map, the ghost is considered to be a Ghost Seat Half-Shark.
Relevant facts
Edit
The full Ghost Seat Shark is possible on every map except Gephyrophobia.
The full Ghost Shark is often used in making Ghost Shrooms on certain maps.
Related pages
Edit
Ad blocker interference detected!
Wikia is a free-to-use site that makes money from advertising. We have a modified experience for viewers using ad blockers

Wikia is not accessible if you've made further modifications. Remove the custom ad blocker rule(s) and the page will load as expected.