Ghost Seat Shark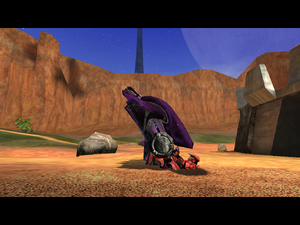 Classification
Game:

Halo (PC)




Mode:

Multiplayer




Map:

Blood Gulch




Type:

Inside




Subtype:

Vehicle Insides




Stunt:

Ghost Seat Shark



Informal Data
See Ghost Seat Shark for general stunt description.
The full Ghost Seat Shark on Blood Gulch was first shown in Ms. Man's video Strange Things.[citation needed]
Tutorial
Edit
Take a Ghost inside of either base on Blood Gulch.
While in the center of the base facing the back of the base proceed to the right side of the back wall.
Position the Ghost so it's in the doorway such that its seat connector will collide with the wall when you drive sideways.
Drive back and forth repeatedly until the Ghost gets inside of the base wall by its seat break point.
Exit the Ghost and proceed to melee it from the front repeatedly until it drops down and forward into a seat shark.
Enter the seat shark and drive out of the base.

Driving forwards will make the Ghost Shark come out of the ground, always drive either sideways or backwards.
Don't exit the Ghost unless it is against a wall such that the seat will pass into the wall when you exit it, rather than out of the ground.
Other information
Edit
Relevant facts
Edit
The Ghost Seat Shark can be taken almost anywhere Blood Gulch, but getting it to go directly over any of the hills is nigh impossible.
Spinning can lead the Ghost Seat Shark to come out of the ground.
Related pages
Edit
Ad blocker interference detected!
Wikia is a free-to-use site that makes money from advertising. We have a modified experience for viewers using ad blockers

Wikia is not accessible if you've made further modifications. Remove the custom ad blocker rule(s) and the page will load as expected.