Ghost Wing Shark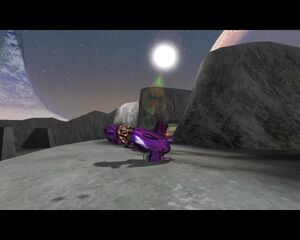 Classification
Game:

Halo (PC)




Mode:

Multiplayer




Map:

Sidewinder




Type:

Inside




Subtype:

Vehicle Inside




Stunt:

Ghost Wing Shark



Informal Data
The Ghost Wing Shark is a vehicle inside that involves forcing the Ghost's wing out of the map's geometry.
Tutorial
Edit
Take a Ghost to one of the portals on the map.
Drive the wing of the Ghost into the portal so the wing is sticking into of the inside of the portal.
Melee the Ghost until the wing of the Ghost inside of the portal drops into the ground.
Enter the Ghost.

You may take the Ghost Wing Shark wherever you want on the map.
Other information
Edit
You can only drive the Ghost Wing Shark backwards and forwards, if you strafe left or right it will pop out of the ground.
If the Ghost Wing Shark rotates too much or moves too fast it will pop out of the ground.
Ad blocker interference detected!
Wikia is a free-to-use site that makes money from advertising. We have a modified experience for viewers using ad blockers

Wikia is not accessible if you've made further modifications. Remove the custom ad blocker rule(s) and the page will load as expected.