Ghost in Crevice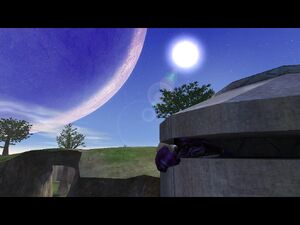 Classification
Game:

Halo (PC)




Map:

Death Island




Type:

Locations




Subtype:

Vehicle Locations




Stunt:

Ghost in Crevice



Informal Data
The Ghost in Crevice stunt is a location that involves forcing the Ghost into the crevice at the top of either of the bases on Death Island.
Tutorial
Edit
Red base
Edit
At the left side of the top of the base, drive the ghost at the crevice.

It may help to use the spacebar to tilt the ghost up.

If you hit the crevice at the right spot the ghost will go inside of it.
Once the ghost is inside of the crevice, drive forward and right to take it around the crevice.
Other information
Edit
In theory the Ghost might be able to fit in the crevice upside down or maybe even backwards.