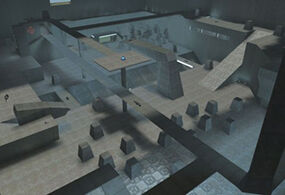 Hang 'Em High
is a multiplayer map in
Halo: Combat Evolved
. It is set inside a Forerunner facility on Halo.
Hang 'Em High is a medium sized map suited for 4v4 action. The map is set inside a Forerunner installation on Halo. The map is a simple asymmetrical map with multi-leveled buildings on each side of the map. On the first floor, the map is littered with many small blocks which are referred to as Tombstones, and two small shelter structures on either side of the map, and in the center of the map lies a large trench. The second and third levels contain many ramps and bridges that connect both sides of the map and two structures on the top of each side that in CTF games serve as the base.
Ad blocker interference detected!
Wikia is a free-to-use site that makes money from advertising. We have a modified experience for viewers using ad blockers

Wikia is not accessible if you've made further modifications. Remove the custom ad blocker rule(s) and the page will load as expected.