Hog in Ramp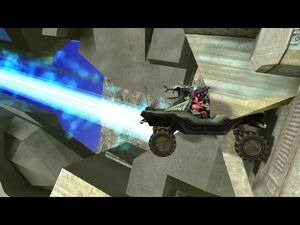 Classification
Game:

Halo (PC)




Mode:

Multiplayer




Map:

Infinity




Type:

Inside




Subtype:

Vehicle Inside




Stunt:

Hog in Ramp



Informal Data
The Hog in Ramp stunt on Infinity involves getting a Warthog inside of the small ramp that leads up to the Banshee Platform by its hood break point. By using explosives, the Warthog can be made vertical or propped up at a variety of angles.
Tutorial
Edit
PFR launch a Warthog on top of either of the Infinity Bases.
Drive the Warthog at the space under the small ramp.
PFR under the back of the hog.
Use grenades to adjust the hog if necessary.

Alternatively you can use a banshee to adjust the hog.
Video Tutorials
Edit
Hog in Ramp Tutorial by Paradoxic
Other information
Edit
You can be in the Warthog while it is vertical if you get inside of it and then have a partner adjust the Warthog.
Ad blocker interference detected!
Wikia is a free-to-use site that makes money from advertising. We have a modified experience for viewers using ad blockers

Wikia is not accessible if you've made further modifications. Remove the custom ad blocker rule(s) and the page will load as expected.