Ledge in Tall Pillar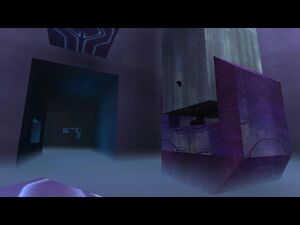 Classification
Game:

Halo (PC)




Mode:

Multiplayer




Map:

Chill Out




Type:

Ledge




Subtype:

Ceiling Ledge




Stunt:

Ledge in Tall Pillar



Informal Data
The Ledge in Tall Pillar stunt is a ledge that involves getting inside one of the two tall pillars on Chill Out.
The tall pillar was first ledged by Thiwy. It first appeared in The Final Act.
Tutorial
Edit
Method 1
Edit
This stunt requires the cooperation of at least four players who shall be referred to as Player 1, Player 2, Player 3, and Player 4.
Do the Large Window Ledge.
Have Player 4 jump from the side of the window into the top of one of the tall pillars.
Have Player 4 jump into the left or right side of the tall pillar to slide down to the bottom part of the pillar.
Other information
Edit
Related pages
Edit
Ad blocker interference detected!
Wikia is a free-to-use site that makes money from advertising. We have a modified experience for viewers using ad blockers

Wikia is not accessible if you've made further modifications. Remove the custom ad blocker rule(s) and the page will load as expected.