Lower Red Base Ledge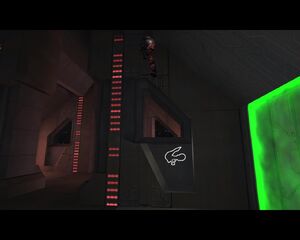 Classification
Game:

Halo (PC)




Mode:

Multiplayer




Map:

Death Island




Type:

Ledge




Subtype:

Ceiling Ledge




Stunt:

Lower Red Base Ledge



Informal Data
The Lower Red Base Ledge stunt is a ledge that involves ledging inside of the lower part of Red Base on Death Island.
Tutorial
Edit
Method 1
Edit
Position a Warthog in one of the four side rooms inside of Red Base facing away from the wall closest to it.
Stand on the tip of the Warthog's turret and throw a plasma grenade in front of it, approximately a Ghost length away from the front of the Warthog.

Alternatively, you can fire a rocket to the same effect.

Move forward to land on the ledge that spans across the room.

From here you can proceed onto one of the triangular windows or above the portal.
Other information
Edit
You can stand on a ledge by one of the small wall-lights at the back wall of the base, as seen in Project Stunt.
Related pages
Edit
Ad blocker interference detected!
Wikia is a free-to-use site that makes money from advertising. We have a modified experience for viewers using ad blockers

Wikia is not accessible if you've made further modifications. Remove the custom ad blocker rule(s) and the page will load as expected.