On top of 343 Guilty Spark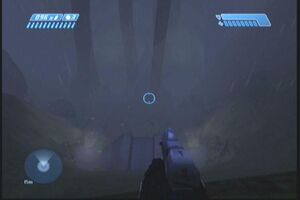 A view from the top of 343 Guilty Spark
Classification
Game:

Halo: Combat Evolved




Mode:

Campaign




Map:

343 Guilty Spark




Type:

Location




Subtype:

Master Chief location




Stunt:

Bottom of Pit



Informal Data
The On top of 343 Guilty Spark stunt is a location that involves getting on top of the first area you play in on 343 Guilty Spark. This is a very old and easy stunt and has been known about since February 2002.
Throughout the cutscene (unless you know where it ends) press the "Throw Grenade" button so that right when the cutscene ends, you throw a plasma grenade and stay in the Pelican.
Ride in the Pelican the whole way until it lands.
Press the "Action" button to get out of the Pelican and then roam around the top of the map.
Video Tutorials
Edit
Pelican Method
This stunt is used when seeing the Unused Marine on top of 343 Guily Spark.
Ad blocker interference detected!
Wikia is a free-to-use site that makes money from advertising. We have a modified experience for viewers using ad blockers

Wikia is not accessible if you've made further modifications. Remove the custom ad blocker rule(s) and the page will load as expected.