Tall Pillars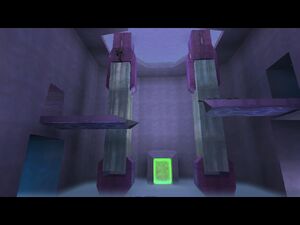 Classification
Game:

Halo (PC)




Mode:

Multiplayer




Map:

Chill Out




Type:

Location




Subtype:

Master Chief Location




Stunt:

Tall Pillars



Informal Data
The Tall Pillars stunt is a location that involves getting on to one of the two tall pillars on Chill Out.
Tutorial
Edit
Front side
Edit
Stand on the platform directly below the front of the tall pillar you want to get on.
Rocket jump to the front side of the pillar.

For the lower platform you want a maximum power rocket jump.
For the higher platform you want a medium power rocket jump.
Back side
Edit
Get on top of the portal behind the tall pillars.
Use a low-powered FR jump to get on the back side of the pillar.
Other information
Edit
It helps to crouch and move forward when you are trying to land on either side of the pillar.
Ad blocker interference detected!
Wikia is a free-to-use site that makes money from advertising. We have a modified experience for viewers using ad blockers

Wikia is not accessible if you've made further modifications. Remove the custom ad blocker rule(s) and the page will load as expected.