Two Columns Ledge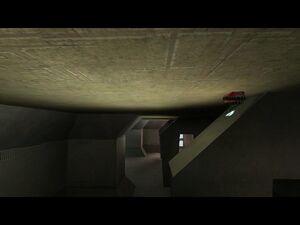 Classification
Game:

Halo (PC)




Mode:

Multiplayer




Map:

Rat Race




Type:

Ledge




Subtype:

Ceiling Ledge




Stunt:

Two Columns Ledge



Informal Data
The Two Columns Ledge stunt involves ledging on or in any of the five pairs of columns on Rat Race.
Tutorial
Edit
To begin, shield bump to the ledge.
Proceed to the end of the ledge and clear your view.
Jump towards the corner left of yourself that corresponds with the corner you are on.

This corner is invisible to you so you need to know where it is. It can help to have another player shooting it.

Jump from the corner to Pair #3.

You need to do a running jump for this jump.
Use the Pair #3 method to get onto the third pair of columns.
Jump from the pair of columns to the corner that is behind you and midway between you and Pair #2.

You can over jump this slightly because there is a ledge behind the corner.

Jump from the corner to Pair #2.

You need a running jump for this jump.
Ad blocker interference detected!
Wikia is a free-to-use site that makes money from advertising. We have a modified experience for viewers using ad blockers

Wikia is not accessible if you've made further modifications. Remove the custom ad blocker rule(s) and the page will load as expected.